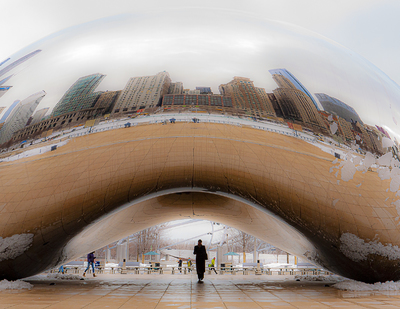 I visited Chicago in January, 2008. Since Chicago is very cold during this time of year there were a lot less tourists visiting Cloud Gate so I was able to get a photo with only a few people in the shot.

Cloud Gate is a public sculpture by Indian-born British artist Sir Anish Kapoor, that is the centerpiece of AT&T Plaza at Millennium Park in the Loop community area of Chicago, Illinois. The sculpture and AT&T Plaza are located on top of Park Grill, between the Chase Promenade and McCormick Tribune Plaza & Ice Rink. Constructed between 2004 and 2006, the sculpture is nicknamed The Bean because of its shape, a name Kapoor initially disliked, but later grew fond of. Made up of 168 stainless steel plates welded together, its highly polished exterior has no visible seams. It measures 33 by 66 by 42 feet (10 by 20 by 13 m), and weighs 110 short tons (100 t; 98 long tons).

Kapoor's design was inspired by liquid mercury and the sculpture's surface reflects and distorts the city's skyline. Visitors are able to walk around and under Cloud Gate's 12-foot (3.7 m) high arch. On the underside is the "omphalos" (Greek for "navel"), a concave chamber that warps and multiplies reflections. The sculpture builds upon many of Kapoor's artistic themes, and it is popular with tourists as a photo-taking opportunity for its unique reflective properties.

The sculpture was the result of a design competition. After Kapoor's design was chosen, numerous technological concerns regarding the design's construction and assembly arose, in addition to concerns regarding the sculpture's upkeep and maintenance. Various experts were consulted, some of whom believed the design could not be implemented. Eventually, a feasible method was found, but the sculpture's construction fell behind schedule. It was unveiled in an incomplete form during the Millennium Park grand opening celebration in 2004, before being concealed again while it was completed. Cloud Gate was formally dedicated on May 15, 2006, and has since gained considerable popularity, both domestically and internationally.