The Story Behind This Photo - Volo Antique Mall - Volo, Illinois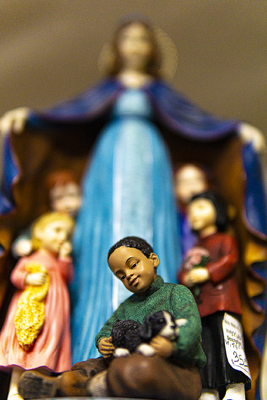 One of my favorite antique stores is in Volo, Illinois. They have several buildings filled with antiques from many different vendors. One of the buildings is an old barn with three floors.

It is a great place to practice taking pictures. So many interesting subjects.

I had to spend a little time to get this shot. The figurine was sitting back on the shelf so I had to move it to the edge to be able to get this angle with out the shelf blocking the view. I used a large aperture for two reasons. One reason is there is not a lot of light in the store so a large aperture lets in a lot of light so you don't have to raise your ISO. The second reason was I wanted to get a very shallow depth of field to accentuate the boy at the bottom of the figurine.

Volo Antique Mall is a family business started by "Go Go" Gert Grams and William Grams Sr.

Gert's high fashion style envisioned, repurposed shabby chic, and an appreciation of vintage and antiques before it was cool. They have had generations of motivated sellers that helped to build their business as it stands today.

Their laid back, yet upbeat atmosphere, is welcoming to all ages. They have décor that can suit the style of any era.

They have seven miles of aisles. This place is huge. 4 different buildings are connected with hallways.

The Volo 4 Antique Malls have been in business for over 25 years. They are internationally known and have been featured on Discovery Channel and soon will be on The History Channel. They aren't your stuffy grandma's mall; They are your cool grandma's mall.

It's a great place to bring your family and friends or go by yourself to get away for some personal time. You can stay all day if you wish. There is no admission for the malls and there is plenty of free parking.

If you love antiques this is a must see when you are in the Chicago area.

They also have an amazing antique car museum but unfortunately it is closed due to Covid-19. A person working there told me they won't open that part of the museum until there is a vaccine. I got a chance to go there many years ago and was very impressed with their selection of cars.